Red Hat (NYSE:RHT) is a software company that has been around for a long, long time. It was recently featured in Jim Cramer's show on CBNC as one of the "cloud kings." Now I don't know about that, but I do know I will hold on to my position and possibly add to it.
The nice thing about Red Hat, is that the company is exposed to nearly any cloud activity. You don't have to pick the right one. It's like buying the pickaxe manufacturer, not the gold mines.
I'll get into some of Red Hat's business and upcoming products later on. First, let's see what happened and what we can expect for the Q2 earnings call.
The 'cloudy' guidance: better or worse?
After steadily rising quarter-over-quarter for years, Red Hat suddenly plunged after the Q1 earnings call. Reason? Earnings were not *stellar*, but more likely it was the soft guidance that scared of investors.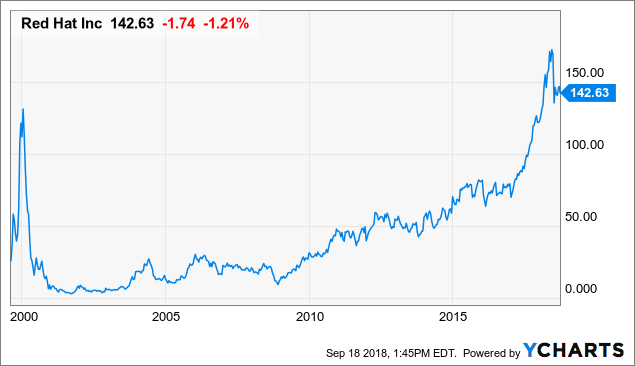 Let's turn to the facts:
Red Hat had its worst trading day since 2006, plunging 14% in one day
Revenue rose 20% year-over-year, and above 1 million dollar deals were up 48% year-over-year
The company gave Q2 guidance of 81 cents EPS and on $822-$830 million revenue
Compared to Thomson Reuters consensus estimates, guidance came in 8% lower in EPS and 3% lower in revenues.
Yet, the stock dropped 14% that day. Was it overdone?
We'll have to see how Q2 actually played out. Now, even more surprisingly, guidance for the full year was actually robust. The company revised down full year revenue guidance by $50 million to $3.41 billion full year revenue. The reason they did this: purely a foreign exchange rate issue.
Fundamentally, there seems to be nothing wrong with the company, only a bit softer sales, but still growing at 20% year-over-year. The fact that bigger deals are coming in ($1 million or more) is encouraging as well, as it means they are able to up-sell these bigger accounts.
Red Hat CEO Jim Withehurst said on air (on CNBC, again) they serve 99% of the fortune 1000 companies. Now that's what I call adoption.
New products and markets are being developed
Let me quickly show you how Red Hat's earnings are structured:


Source: Red Hat Q1 report
About 12% of revenue comes from Training and services, 88% is subscriptions. This is a good start, considering that the latter is more scalable. Also, it's still growing considerably: 19% year-over-year.

Source: Red Hat Q1 report
The company splits the Subscription revenue again into two categories: infrastructure and App Dev + other emerging technology offerings. (If we add up the two, we have $711,521 which is the same as the subscriptions revenue, so don't be confused by the title 'subscription and services revenue.')
In short we could say: the 'old stuff' and the 'new stuff'. While the big money, and there is still growth possible, is concentrated in Infrastructure-related offerings, it's nice to see that the emerging technology offering grows 36.5% year-over-year.
At this point, more than 26% from the subscription revenue comes from offerings geared more towards emerging technologies. Out of total revenue, this is 23%.
To me, this is an indicator that Red Hat is looking into the future to maintain the growth.
The company has plenty of new products coming out. Let's name a few notable ones that hit the market recently:
All these examples are just to show you that Red Hat is not some old tech stalwart living from old products and services. It remains innovative, and Open Source is helping it to do so. Which brings me to my next and before-conclusion point..
Open Source is a moat
I'm always looking for a competitive advantage, or at least for a situation that's really hard to replicate in a short period of time. Take Facebook as an example. Is it difficult to build a website similar to Facebook? Not really, because plenty of entrepreneurs have done that and failed. It is very hard for a new entrant in the space to foster the kind brand awareness, and community, in a short period of time.
That's what I call a moat. I believe Open Source created a moat for Red Hat as well. Because the entire company is built on 'adding value' to products that are essentially free, it is a completely different company than traditional software companies.
They don't have to frantically protect their IP, quite the contrary: the more people using it, the better! Once it scales, they will step in with expertise to monetize.
Take this picture from infoworld.com, it shows the top 10 companies in the world contributing to Open Source projects. Now wouldn't you want to own some stock in most of them, honestly?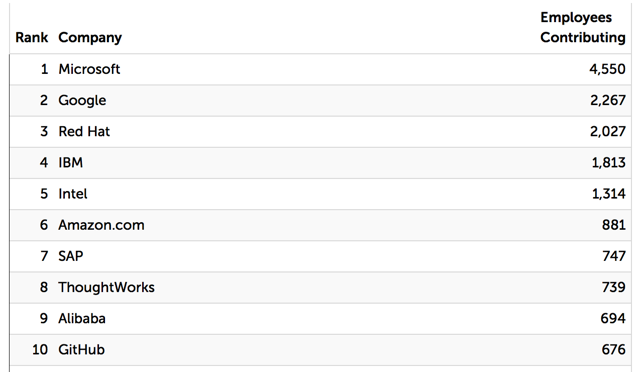 Source: Who really contributes to Open Source, Infoworld.com
Because engineers at Red Hat are constantly trying to add value rather than add profits, could it be that they are actually creating more value? The 'Open Source Revolution' is real with many big companies and even financial institutions using open source solutions to power their IT systems.
Much like Facebook's moat, it is very hard or near impossible to quickly and cheaply cultivate the community needed to thrive in Open Source. That's why I believe Red Hat is very well positioned for the future.
The kind of moat is different, because Facebook has network effects and a two-sided market model, so it's completely different than Red Hat, but it's just an analogy to show you that I believe Open Source has provided Red Hat with a competitive advantage it will be able to exploit over the long-term.
Valuation: Is Red Hat a buy?
I was waiting for a while to get a good entry position in Red Hat and the latest quarterly results gave me just this. I will be looking to buy some more before and potentially after the Q2 earnings results.
If the results are disappointing: I will average down. If they are good, I will have been glad that I already added a bit before.
But to conclude: how is Red Hat valued? I guess the easiest thing to do is end this article like we started: with Jim Cramer's Cloud Kings.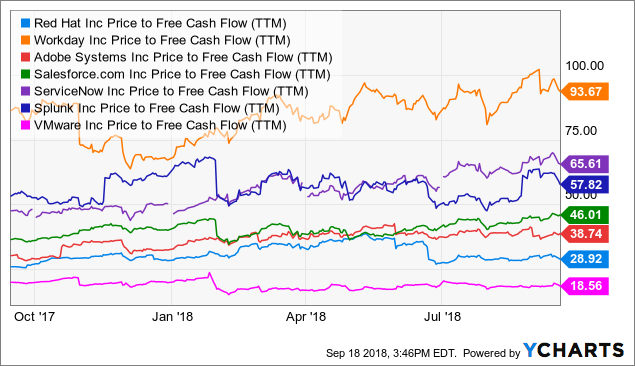 From a TTM Free Cash Flow point of view, Red Hat appears to be relatively cheap compared to its peers. YCharts does not support enough data to really make a good analysis of other ratios, and digging into every company report would be beyond the scope of this article.
Finviz shows a PEG ratio of 3.72 and a forward P/E 36, which I wouldn't call cheap. However, the company
continues to grow earnings per share
will buy back $1 billion in stock
is exposed to growth in the cloud and emerging technologies
closes more $1 million + deals, which is a sign of up-selling strength
If the growth is on par (let's say 20% year-over-year), I believe Red Hat can move back to its earlier high by the end of the year. At $177 target, this represents a 24% upside.
Disclosure: I am/we are long RHT.
I wrote this article myself, and it expresses my own opinions. I am not receiving compensation for it (other than from Seeking Alpha). I have no business relationship with any company whose stock is mentioned in this article.
Additional disclosure: I will potentially increase or decrease my position after the next earnings report.
you may also want to read