FIRE ISLAND, Suffolk County (WABC) --
Fire Island beaches re-opened on Thursday, but lifeguards said 2 sharks were caught and many people stayed out of the water a day after two children
were bitten in possible shark attacks
.
All state beaches were reopened for swimming, with additional lifeguards monitoring the water and patrols continuing along the Fire Island shoreline.

"Absolutely I would get in the water. This is a beautiful day today. Some of the great state beaches in the entire country are right here in New York. I'd encourage people to go to the beach and enjoy themselves and just remain vigilant. Just be watchful. There are many things to be aware of at the beach," New York State Department of Environmental Conservation Commissioner Basil Seggos said.
Lifeguards at Atlantique beach say two sharks were caught this morning just off the shoreline, and many people stayed out of the water despite the beaches being reopened.
Lifeguards at Atlantique Beach on Fire Island tell me two more sharks were caught this morning just off the shoreline. Town of Islip confirms one was 8 feet. People are allowed in the water but you can see no one is taking a chance pic.twitter.com/dMFdJCWsvi

— Kristin Thorne (@KristinThorne) July 19, 2018
Town of Islip officials confirmed an 8-foot sand shark was caught 50 yards west of Atlantique Beach.
Eyewitness News reporter Kristin Thorne obtained some exclusive photos and videos:

On Wednesday, 13-year-old Matthew Donaldson was bitten while boogie boarding at Atlantique Beach, while 12-year-old Lola Pollina was attacked at Sailors Haven Beach. Both suffered deep cuts but are expected to be OK, and a tooth was recovered from the boy.
"We will have our experts at New York Aquarium and SUNY Stony Brook and our experts here at DEC look at that tooth and see what it is. We are not ruling anything out. We dont believe there is any connection between the two bites, those are two different incidents, four miles apart within four minutes," Seggos said.
Donaldson said the bite didn't feel sharp, but shocked him.
"Because it was really quick. It was like one second, went like that and then it just let go immediately," he said.

He "stumbled out of the water" into a lifeguard tent, where the lifeguard dressed puncture wounds before EMTs removed the piece of tooth.
"It was small, like it was from a baby shark or something like that, and it was a sharp tooth," Donaldson said. "It was actually fairly sharp.
Pollina was able to walk to shore with assistance from her dad before she was taken to the hospital. She said the bite didn't hurt at first, and she didn't feel it. She said it only hurt when lifeguards started poking around the wound.
"I thought it was a shark," she said. "We were at the beach, and there wasn't a tiger or anything...It was just like a quick kind of pull, and I was kind of in shock almost. Because it pulled, and then I kind of looked at it, and I was like, oh my gosh."

Her wound was too deep for stitches.
Warning: Graphic photo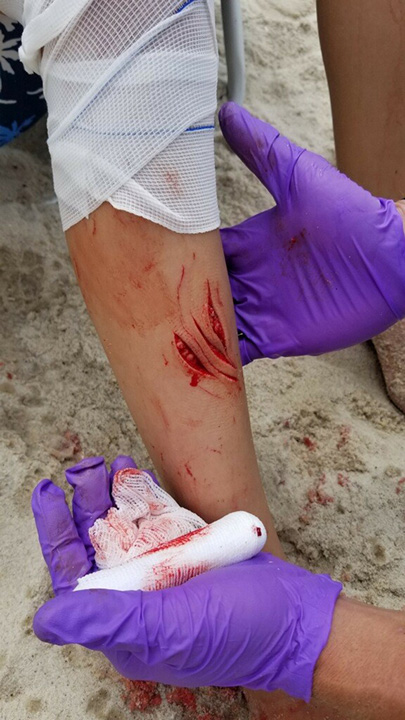 In a third possible incident, the superintendent at Jones Beach said swimmers were evacuated from the water at Robert Moses State Park after a lifeguard spotted a shark. Swimmers were allowed back into the water around 2:30 p.m. on Wednesday when the sighting was deemed to be a sandbar shark.
----------
*
More Long Island news
*
Send us a news tip
*
Download the abc7NY app for breaking news alerts
*
Follow us on YouTube
*
(Copyright ©2018 WABC-TV. All Rights Reserved.)
you may also want to read