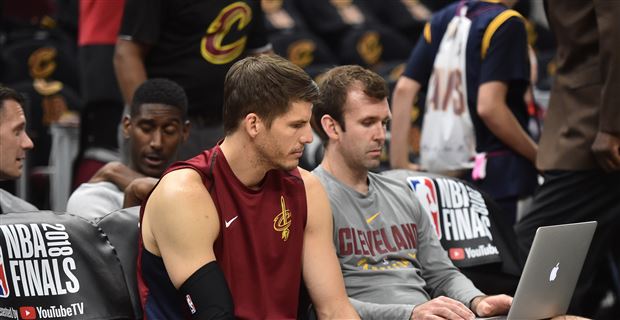 With LeBron James now in sunny Los Angeles and playing for the Lakers, the Cleveland Cavaliers are tasked with the difficult task of trying to be as competitive as they were when they had the superstar forward on their roster. Due to James' overall brilliance, the Cavs in the short term may never reach that elite level again but the team will definitely try and are reportedly considering changing up their roster by trading veteran sharp shooter Kyle Korver.
According to Cleveland.com's Terry Pluto, the Cavs are looking to trade Korver. Pluto however, doesn't detail what the Cavs hope to get back in a deal involving Korver.
4. I hear the Cavs are looking to move Korver. He has a contract for $7.5 million this season. In 2019-2020, he also has a $7.5 million deal with $3.4 million guaranteed.
Speculating a bit, Pluto believes that Korver would fit in well with the Lakers. He doesn't however, report that the Lakers are actually interested in acquiring him.
5. Korver would help the Lakers, who need shooters to surround LeBron James. But they keep adding iffy outside shooters: Rajon Rondo, Lance Stephenson and JaVale McGee. So who knows what they are planning.
Pluto's report about Korver fits what what Cavs general manager Koby Altman recently said about the team while talking to the media during Las Vegas Summer League. Altman stressed that the Cavs still want to remain competitive despite the fact that James left in free agency.
"The years where you're non-competitive aren't fun," Altman said. "And I know that's hard to build a culture that way and we've had a great culture of winning because of LeBron and that infrastructure that he brings right away. And I'd like to capitalize on that.
"You won't be nearly as good if you lose a player of that magnitude. "But we can still be competitive, we can be tough, we can be skilled, we can be talented and we can still use that culture that's sort of been embedded these last four years."
"To go the complete opposite direction, which we've been through, is not fun and it's hard," Altman added. "It's hard to sort of come out of that. And the unknown is really daunting to me. I really like what we have now and I don't necessarily want to go backwards."
Trading Korver definitely won't help the Cavs net an All-Star caliber player. But a Korver trade should at least help Cleveland land an asset or reliable player that could aid in their rebuild. Also a plus for the Cavs is the fact that teams likely would be interested in acquiring Korver because he is an excellent three-point shooter and floor spacer.
It remains to be seen if the Cavs end up trading Korver but with James gone, Cleveland needs to explore all possible options if they want to continue to be a playoff team in the East.
you may also want to read